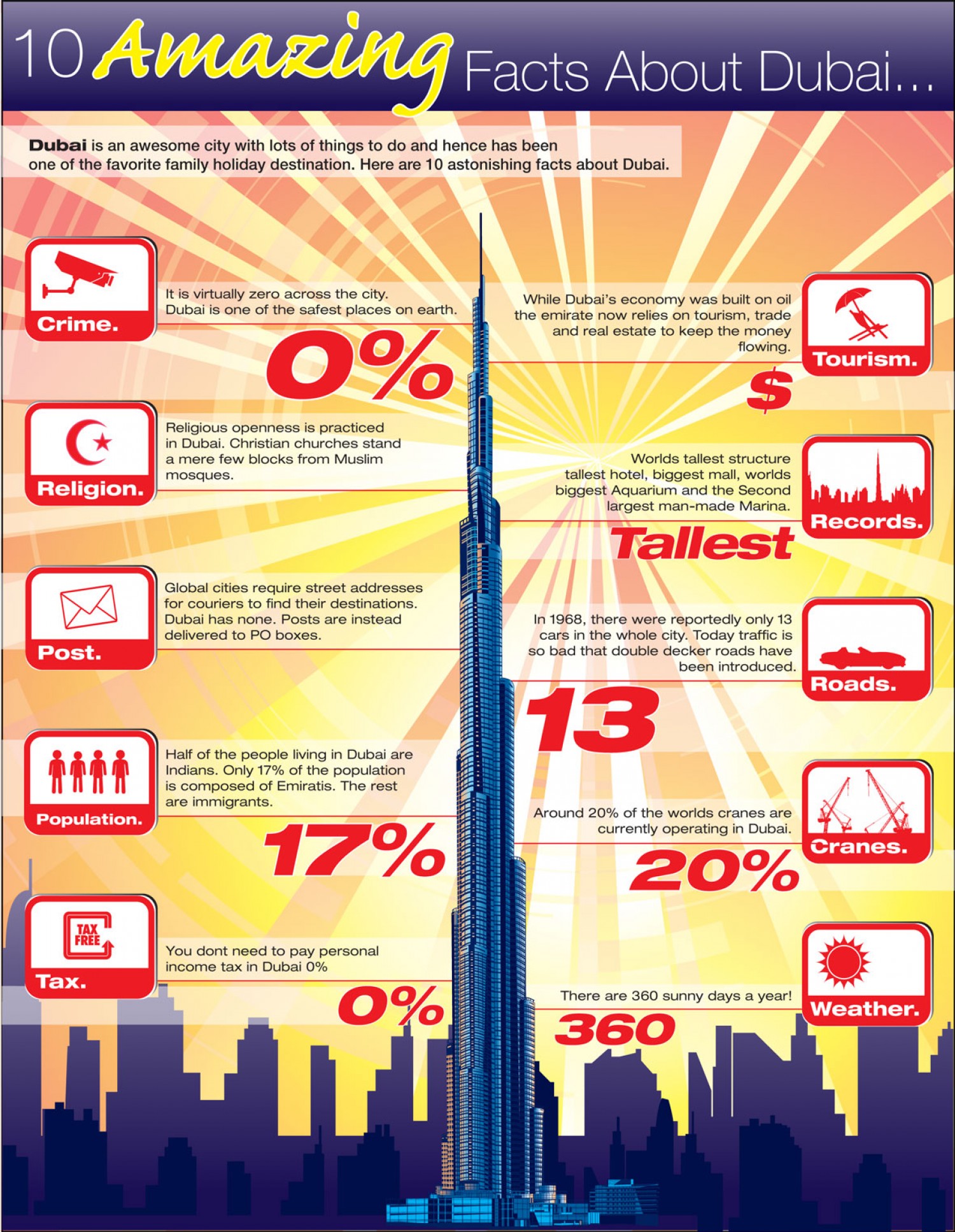 1 – Dubai is one of the cities of the United Arab Emirates and is located in the Gulf Coast.
2 - The population of Dubai is approximately 2.2 million people. The foreign population residing in Dubai is estimated at 70% of the total population of the country, to Visit Dubai you will need the Dubai Visa, which can be Dubai Tourist Visa, Transit Dubai Visa or Dubai Business Visa. Dubai is one of the few places in the world where a foreign national does not have to pay taxes.
3 – The most popular sports in the richest city in the world are soccer, tennis, golf, rugby and cricket. Ski lovers can ski at the Mall of the Emirates one of the biggest shopping malls in the world has inside a ski resort with 22,500 meters.
4 – Among the tourist attractions of the city of Dubai, stands out the Burj Al Arab and the Burj Khalifa, the tallest building in the world with 828 meters tall building.
5 - On average per year, Dubai receives 10 million international tourists, as projected to reach 15 million in 2015. Dubai Mall has more than 1.200 stores and more than 150 restaurants.
6 – The climate is desert. Dubai is the unique city in the world that does not have any lake or river. The temperature generally exceeds the 42 degrees Celsius.
7 – Cleaning of all windows of the Burj Khalifa, the tallest building in the world requires more than four months of hard work.
8 - The economy of Dubai is supported primarily on oil, tourism and the service sector.
9 - Religious practice opening in Dubai. There are Christian churches located a few blocks from Muslim mosques, Hindu temples and even Jewish synagogues.
10 - Dubai is the hub of the jewelry trade in the Middle East. Four miles of 22-carat gold: To consolidate his reputation during the Shopping Festival 1999 was made the biggest golden chain in the world.